ANSAmed
by Diego Minuti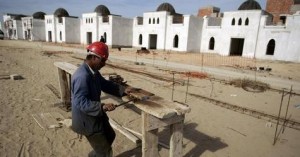 If the real estate market is one of the best indicators to monitor the health of a national economy, Morocco in this sector appears to be gearing up for a season of full recovery after plunging into a deep crisis from which it has undeniably not recovered yet.
The weak signs registered a few months ago are growing stronger and British think tank Oxford Business Group in its report – partly published by the website La Vie éco – described the real estate market in the Kingdom as going through a positive phase for sales, especially in the so-called residential segment.
What is occurring, paradoxically, finds an explanation in the economic crisis which, as is always the case, pushes down real estate prices, leading buyers to invest in different types of real estate acquisitions. A confirmation comes from data concerning sale contracts last year, which registered a 17% increase for apartments while commercial spaces jumped 13.5%.
The sector, however, suffered from housing policies brought forward by the government, which increased social housing (with highly competitive prices compared to traditional ones), thus limiting the number of those willing to buy.
In addition, the government's fiscal policies had a positive impact in this circumstance, including partial tax cuts and lower VAT for low incomes.
Now – and this is the most positive aspect – the market appears to have stabilized, after the boom registered in 2007 (before the start of a worldwide economic crisis) and subsequent years of recession.
Thus the sector is once again enticing buyers, including foreigners who have established themselves in Morocco over the past few years and are highly courted by the market.
These potential buyers are willing to spend, though mostly in touristic areas – contributing to higher prices there, partially "drugging" the market. (ANSAmed).