Reuters
by Aziz El Yaakoubi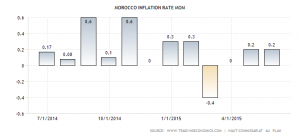 Morocco's consumer price inflation rose to an annual 2 percent in May from 1.7 percent in April, the High Planning Authority said on Monday.
Food inflation was 3 percent, up from 2.5 percent. The non-food price index rose to 1.3 percent from 1 pct.
Month-on-month, inflation was unchanged at 0.2 pct.
(Reporting By Aziz El Yaakoubi; editing by John Stonestreet)