Trade Arabia
Finance & Capital Market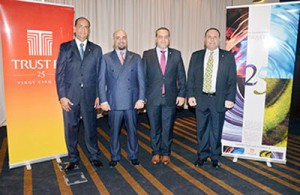 Bahrain-based reinsurance firm Trust Re has opened a representative office in Casablanca, Morocco.
The public limited company, Trust International Insurance and Reinsurance Company, functions as a regional office to serve Trust Re's clients in North, Central and West Africa, said a report in the Gulf Daily News (GDN),our sister publication.
Under its current Casablanca Finance City (CFC) status, Trust Re said it enjoys significant advantages including being part of Morocco's financial landscape.
The company said it also delivers value-added services to CFC's ecosystem in terms of technical and actuarial training to other insurance entities.
Future plans for Trust Re's presence in Morocco include conversion of the representative office to Trust Re's hub for the African continent.
Trust Re chief executive Fadi Abu Nahl said that in 1989, Trust Re chose Bahrain, the financial centre of the Middle East, to launch its operations, where it received strong support from the Bahraini regulating authorities throughout the past 25 years.
"Likewise, when we started thinking of establishing physical presence in the African continent, Morocco has always been a preferred option for us.
"We have a high opinion of the country's stability and respect the acumen of the Moroccan workforce. Moreover, we have full confidence in the continued future prosperity of Morocco under the leadership of King Mohammed VI," he said.
Trust Re deputy chief executive Romel Tabaja said a footprint in Africa would allow the company to engage even more closely with business partners on the African continent.
"We are also pleased to contribute towards strengthening the Moroccan economy and are keen to invest in local talent," he added. – TradeArabia News Service