Open Democracy
Kareem Chehayeb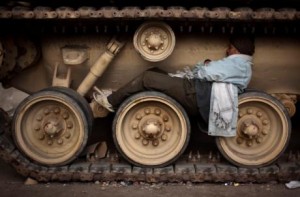 A new report suggests that Arab youth continue to be neglected – and that demographic shifts are incubating another political crisis.
An Egyptian anti-Mubarak protesters sleeps on the wheels of a tank in Tahrir square, Cairo. (AP Photo/Emilio Morenatti)   The 2016 Arab Human Development Report (AHDR) by the United Nations Development Programme (UNDP) was focused on the region's youth – those aged between 15 and 29 – a significant group that keeps on growing. This is the first report of its kind to be released after the Arab Spring, and details how young people are more politically aware and motivated to achieve their civil and human rights. Yet they face considerable challenges, primarily economic and security-related. The poor economic planning by the existing regimes is only prolonging and worsening these problems, as a more politically-conscious population grows.
The unemployment plague
Youth unemployment among those aged between 15 and 24 was at its highest in 2014, at almost 30%, more than double the global average. By 2019, an even greater disparity will emerge, as estimates project the global average to decline, with the Arab world's rate increasing steadily. Considering that the region's population growth is the largest worldwide, over 60 million jobs will need to be created by 2020 simply to stabilize youth unemployment.