Angry anti-government demonstrations broke out Thursday across Tunisia after gunmen killed the leader of a leftist opposition party, raising fears of new chaos on the difficult road to democracy in the cradle of the Arab Spring.
Just five months after a similar assassination plunged the country into crisis, two gunmen shot Mohammed Brahmi, leader of the Popular Current party, in his car outside his home.
Tunisia is struggling after overthrowing dictator Zine El Abidine Ben Ali in January 2011. Many Tunisians are fed up with the government led by the moderate Islamist ruling party, Ennahda, which appears unable to handle a faltering economy, address popular unrest over unmet expectations and crack down on a rising extremist Islamist movement.
Protesters immediately blamed the latest killing on the government. Soon after news broke, crowds gathered outside the Interior Ministry in the heart of Tunis calling for its downfall.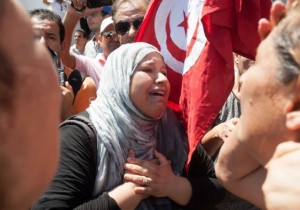 A Tunisian supporter of the Popular Front party reacts at Mahmoud Materi hospital, after Mohammed Brahmi died from his wounds after he was shot to death in his car outside his home, north of Tunis, Tunisia, Thursday, July 25, 2013. Brahmi, 58, of an Arab nationalist political party was in his car outside home when gunmen fired several shots at him, said Interior Ministry spokesman Mohammed Ali Aroui. It is the second killing of an opposition member this year, following that of Chokri Belaid, a member of the same leftist Popular Front coalition as Brahmi. Belaid was also shot dead in his car outside his home in February. His killing provoked a political crisis that nearly derailed Tunisia's political transition. Photo: Amine Landoulsi
Seattle Post Intelligenser
BOUAZZA BEN BOUAZZA, Associated Press, By BOUAZZA BEN BOUAZZA and PAUL SCHEMM, Associated Press