News.com.au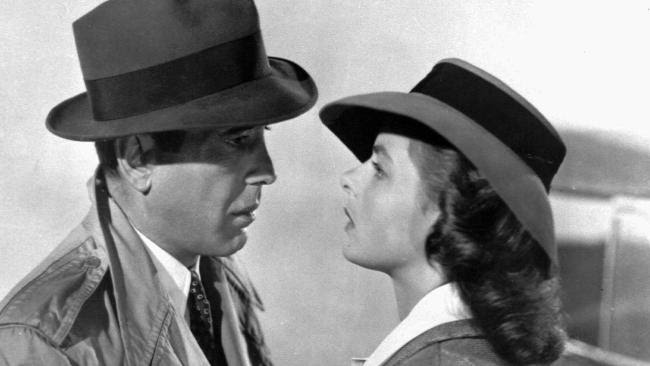 Actors Humphrey Bogart and Ingrid Bergman in a scene from the 1942 classic film Casablanca. Source:Supplied
WHEN cameras started rolling at Warner Bros studios industy, nondescript Burbank, California, in May 1942, most of the world had never heard of the equally dusty desert port of Casablanca in Morocco.
Operation Torch, the name given to the Allied invasion of French North Africa and was the first time the Americans and the British had jointly world on an invasion plan together, earned the city international fame on November 8, 1942, when 35,000 troops landed in Casablanca, Oran and Algiers to mount an assault on German General Erwin Rommel's Afrika Korps.
Providing the ideal marketing opportunity, the invasion approved by President Franklin D. Roosevelt in mid-1942, pushed the deadline for completion of Warner's star vehicle. Finishing touches on the Humphrey Bogart-Ingrid Bergman wartime romance were rushed through for a premiere screening of Casablanca at the Hollywood Theatre in New York on November 26, 1942, weeks after the US Moroccan landings.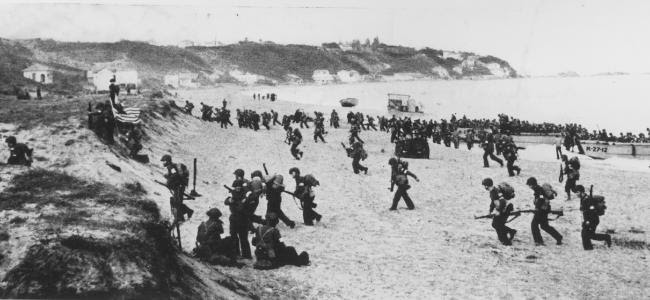 US troops landing in Algiers in November 1942 for Operation Torch.Source:News Corp Australia
It was only coincidence that the movie was released under the exotic title of Casablanca, apparently chosen to capitalise on the success of 1938 hit Algiers, starring Charles Boyer and Hedy Lamarr. When filming began, US plans to co-operate with Britain by using landings at Morocco to enter WWII were still in dispute.
The film had begun as a stage play titled Everybody Comes To Rick's, written by New York high school teacher Murray Burnett, then aged 30, and his friend Joan Alison in 1940.
Murray's inspiration was a trip with his wife Frances to Vienna in 1938 to help Jewish relatives smuggle money out of the country, occupied by the Nazis since March that year. The couple then visited Juan-less-Pins, near Antibes on the French Riviera, where they listened to jazz at La Belle Aurore nightclub, overlooking the Mediterranean and possibly 100km away at St Tropez.
A black pianist played jazz sets to entertain crowds of local French residents, Vichy French and Nazi officials, and refugees fleeing central Europe. Refugees with appropriate papers and more money planned to cross Spain to Lisbon in neutral Portugal.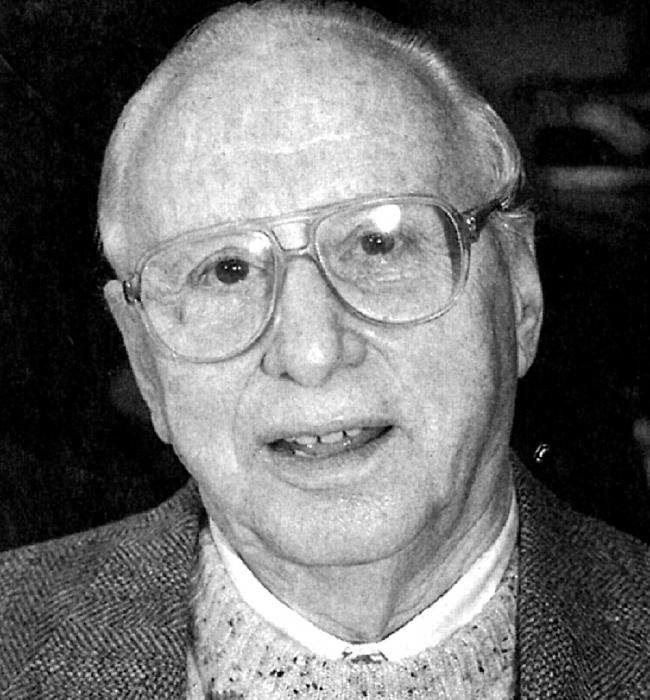 Playwright Murray Burnett.Source:News Corp Australia
Less fortunate refugees planned a boat crossing to Oran in Algeria, then a 1100km road trip southwest to Casablanca in French Morocco, where they hoped to secure papers and a boat or plane back north to Lisbon, to board ships bound for North America.
Burnett spent a few weeks in Bournemouth, England, before returning to the US, where he began notes for an anti-Nazi play. In the summer of 1940 he completed the play, Everybody Comes To Rick's, in a six-week collaboration with Alison.
The star was Rick Blaine, the cynical American owner of Cafe Americain bar in Casablanca, who quit revolutionary freedom fights to entertain Nazis and Vichy French officials and European exiles and refugees, forced to make serious moral compromises to secure black-market visas. Rick's complacence is rattled when a Czech resistance leader walks into his bar with his wife, the woman Rick had loved in Paris.
Unable to find a Broadway producer, Burnett and Alison's agent sent the play to Warner Bros, where it crossed the desk of a story analyst on December 8, 1941, the day after Japan bombed Pearl Harbor. The analyst's enthusiastic report interested producer Hal Wallis, who could see Bogart playing Rick Blaine.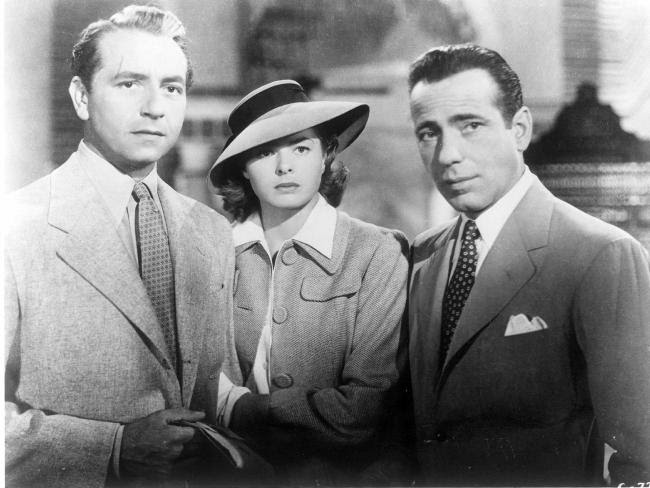 Actors Paul Henreid, Ingrid Bergman and Humphrey Bogart in scene from film |Casablanca|.Source:News Limited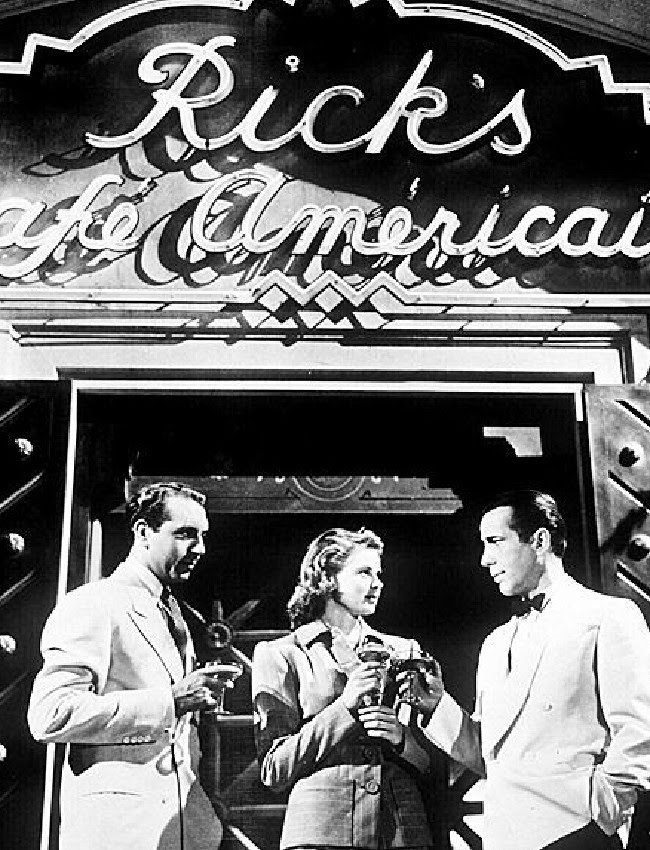 Actors Paul Heinreid, Ingrid Bergman and Humphrey Bogart in 1942 film Casablanca.Source:News Corp Australia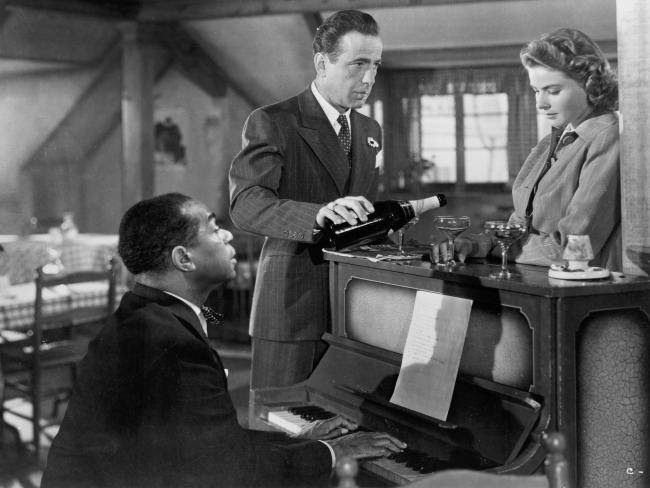 Sam (Dooley Wilson), Rick (Humphrey Bogart) and Ilsa (Ingrid Bergman) in a scene from Casablanca, 1942. The film was based on the play Everybody Goes To Rick's by Murray Burnett and Joan Alison. Picture: Getty ImagesSource:Getty Images
On January 12, 1942, Burnett and Alison signed a contract for a record $20,000, but were obliged to "give, grant, bargain, sell, assign, transfer and set over" to Warner Bros all rights "of every kind and character whatsoever, whether or not now known, recognised or contemplated, for all purposes whatsoever".
Casablanca blitzed the box-office after general release on January 23, 1943 and won an Oscar as the best movie for that year. Burnett then spent the next 18 years crusading for recognition as the author of such lines as "Play it, Sam"; "We'll always have Paris" and "Of all the gin joints in all the towns in all the world …". The theme song As Time Goes By was "one of my favourite songs at Cornell University in 1931", Burnett said.
He admitted Warner Bros screenwriters Howard Koch and Philip and Julius Epstein, who shared an Oscar for the movie screenplay, made some improvements, including "Here's looking at you, kid." They also changed the ambiguous end of the play, where it was unclear whether corrupt French police captain Louis Renault arrested Rick. In the movie, Rick's final line was, "Louis, this could be the start of a beautiful friendship".
And it was Koch who changed the name of Rick's love interest from Lois Meredith to the more exotic Ilsa Lund, better suited to Bergman's Scandinavian origins. But despite exotic touches, the film crew left Warner Bros studios in Burbank only once, to film a sequence at the city's Van Nuys Airport.