ANSAmed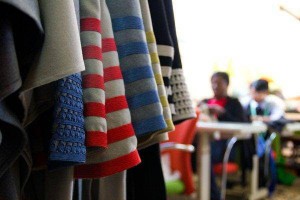 The name chosen, 'Migrants du monde', is unmistakable as is its main end – giving a new occasion through fashion to those who leave their country for choice or need. In just a few years, this has become a phenomenon not just of fashion but also for its way to freshen up the relationship between those abandoning their land and those who, Gospel or Koran in hand, open their arms to their coming in peace and respect those hosting them.
Migrants du monde was born from a bet and as a way of putting to fruition centuries of tradition in fashion, as shown at the presentation of the latest collection at the prestigious institute Tahar Sebti in Casablanca for a night full of colors, sounds and fabrics.
Strong from their traditions, designers with Migrants du monde have used songs from their territories during fashion shows to say they have not forgotten where they come from – as they have done on previous occasions in Paris, Rome, Barcelona.
Headquartered in Morocco, the offerings of designer Isabelle Camard – a Frenchwoman with a solid experience honed at prestigious haute couture institutes in Paris and New York – echo Arab culture. In the weeks before the start of the holy month of Ramadan, the website of Migrants du monde launched a new line of djellabas in linen, with hand-made hems and made-to-order.
For those who don't know fashion in Arab countries, getting into the website of Migrants is like a full immersion in color and elegance, as if those working in different lines (there are 12, from the Fghan to Gandoura, Palestinian and Yugoslav) decided not to limit creativity. Migrants has very clear social ends. Funding is raised during fashion shows for refugees, especially children who, without their parents, live a situation of abandonment when they arrive in a country.
The mission of Migrants is widening in terms of results and objectives with the presence in the structure of women from central African regions. They arrived in Morocco after years of peregrinations in the heart of the continent, showing with pride their highly colored boubou they made as a symbol of a new life more than as a way to flee poverty. (ANSAmed)