Mirror.co.uk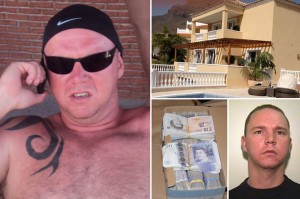 John Clark ran a vast criminal enterprise from his luxury homes across Europe
A drugs baron who led a luxury lifestyle before fleeing to Morocco in his Bentley Continental as his criminal empire collapsed has been jailed for 25 years.
John Clark was the 'head of a drug dealing enterprise' supplying drugs around Bury and ran the operation from his luxury properties in Spain and other parts of Europe.
Clark 'enjoyed a very high level of luxury' with 'beautiful homes, designer clothes and expensive cars', Bolton Crown Court heard.
The scale of the drugs empire stretched from Scotland to Merseyside, London and Lincolnshire and involved the importation of vast amounts of cocaine, heroin and amphetamines from the continent, the Manchester Evening News reports .