Bloomberg LP
More stories by James Tarmy
The 15-bedroom Riad Sultan, yours for just $3.7 million.
Most of the houses in the Medina section of Marrakech—the city's historic center and now a UNESCO heritage site—aren't much to look at from the outside. Narrow streets are hemmed in by high, virtually windowless walls. The only indication of life behind them is the odd piece of foliage peeking above the painted stucco.
An alcove in the Riad Sultan.
Photographer: Riad Sultan
The Riad Sultan, a former palace located a few minutes' walk from the Jemaa El Fna square is no different. But inside the Riad's ornate wooden door, you'll find one of the most elaborate private homes in the city, now up for sale.

Ceilings throughout the house are decorated in elaborate, hand-painted ornaments.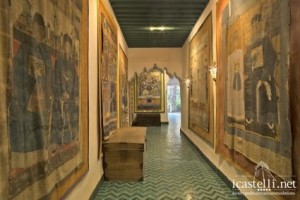 Photographer: Riad Sultan
Originally owned by the country's grand vizier, Madani el Glaoui (whose brother, known to English speakers as Lord of the Atlas, was the fabulously wealthy Pasha of Marrakech), the palace passed through multiple hands until 1998, when the French publicist Homero Machry and his partner, Thierry de Beaucé, an author, diplomat, and former secretary of state to the French minister of Foreign Affairs, bought it.
Photographer: Riad Sultan
"It was one extended Moroccan family living in the whole house," Machry said in a phone interview. "Like eight separate families, who'd separated it into apartments." The new owners did a "tiny" amount of work to return the more than 16,000-square-foot house to its unified whole. It now has 15 bedrooms (each with its own bathroom), three large reception rooms, four courtyards, a (former) harem room, a tower, and a rooftop swimming pool.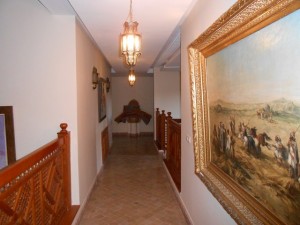 A hallway decorated with artwork from China. Everything in the house is for sale.
Photographer: Riad Sultan
The couple filled the house with objects from their travels: large canvases from China, prints by Picasso (they threw a birthday party for Picasso's daughter Paloma), carvings from Africa, Louis XV chairs from France, and lamps from Indonesia, where de Beaucé was once France's ambassador.
Photographer: Riad Sultan
Though they have a staff of six, both Machry and de Beaucé feel that now, the palace is too much house for two people. They have put it on the market with Kensington Luxury Properties Group, an affiliate of Christie's International Real Estate, for €3.5 million ($3.7 million). "It became too big for us," Machry said. "It will be easier for us to live in a more modern space, too." To that end, he hopes to sell all the furnishings as well. "It would be impossible to put all of these paintings and furniture into a small house," he said. "Luckily we've already had a few offers about the furniture."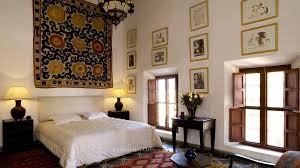 Photographer: Riad Sultan
For more than a decade, the couple operated the house as a bed and breakfast, which became the go-to for a certain Hollywood and fashion set. Charlotte Rampling, Kate Moss, Ridley Scott, Calvin Klein, Naomi Campbell and others all stayed at the Riad Sultan over the years. Several movies were shot in the residence as well. "Nicole Kidman was in one," Machry said, though he was unable to recall which. (There's a good chance it was Queen of the Desert, directed by Werner Herzog, which received a rating of 16 percent on Rotten Tomatoes.) A few years ago, Machry said, the house reverted back to a private residence.
The house has one of the largest private gardens in the Medina.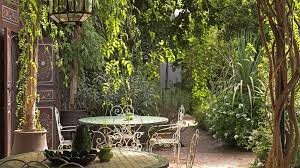 Photographer: Riad Sultan
The house has almost a quarter-acre of gardens—remarkable, given the densely packed metropolis outside its walls—which are filled with cypress, olive, and orange trees. The garden is fed by one of the few wells in the Medina, which also supplies water to the multiple courtyard fountains.
The lush gardens are fed by a rare spring.
Photographer: Riad Sultan
It's next to the smallest of these that Machry said he finds the most peace. "It's very quiet," he said. "All you hear is the birds."