Why Western Sahara Matters
FORBES
Anna Borshchevskaya, Contributor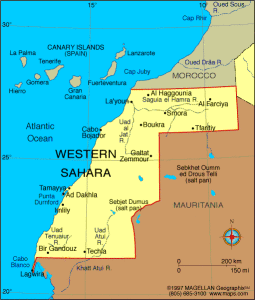 This month, US Congress passed the 2015 Appropriations Bill. Among other provisions, the new law strengthens US mandate for assistance to Morocco to be used in Western Sahara. The law says, "Funds appropriated under Title III of this Act shall be made available for assistance for the Western Sahara."
Western Sahara generally gets little attention. Between nuclear talks with Iran, ISIS advances in Syria and Iraq, and Vladimir Putin's annexation of Crimea, it is understandable that Morocco and Western Sahara go largely unnoticed. They shouldn't be. I travelled to Morocco last month, and wrote about Morocco on these pages. Yet Western Sahara, and the importance of US assistance, deserve special attention.
Moroccan kings had ruled over what is now called Western Sahara from 1578-1727 and lost it in the context of Spanish and French colonization in the 1800's, when Spain took administration of what was then called the Spanish Sahara. From Morocco's point of view, given the country's history, this territory was and remains integral to the country's unity.
Morocco's King Mohammed V had formally laid claim to Sahara in 1958. In 1965, the UN had first called on Spain to decolonize the Sahara, after Morocco had already claimed independence from France. In 1975, Spain officially terminated its administration of the Sahara.
That year, Morocco had quickly laid a sovereignty claim to this region and occupied most of its territory. However, neighboring Algeria, a Soviet ally, had opposed Morocco's claim in the context of the Cold War. Algeria had trained the Polisario Front, a Marxist rebels movement founded in 1973, who began staging attacks against Morocco that year.
In 1976, the Polisario declared the independent Saharawi Arab Democratic Republic (SADR) in Western Sahara. Guerilla conflict continued until 1991, when Morocco and the Polisario reached a UN-brokered ceasefire and agreed to a referendum over Western Sahara. The vote never took place because the two sides could not reach an agreement on who would be eligible to vote, and the conflict lingered even as the Cold War ended.
The last three US administrations, starting with President Clinton, have all supported Western Sahara's autonomy under Moroccan sovereignty. On November 22, 2013, in a joint statement following a meeting between President Obama and King Mohammed VI, the US reiterated Morocco's autonomy plan for Western Sahara as "serious, realistic, and credible," one which "represents a potential approach that could satisfy the aspirations of the people in the Western Sahara to run their own affairs in peace and dignity." The same statement reiterated a "shared commitment to the improvement of the lives of the people of the Western Sahara."
The fact of the matter is, the Sahrawi Arab Democratic Republic exists because of Algeria's support for Polisario, which it sees as a useful tool in its regional competition with Morocco. Though some mistakenly believe the conflict over Western Sahara is over resources, for Morocco, it is simply a matter of territorial integrity. Other than some fisheries and small phosphate deposits, Western Sahara has few natural resources to speak of. And in 1975, when Morocco asserted its sovereignty over Western Sahara, the region was woefully poor.
Since then, Morocco has invested billions of dollars in economic and social development of this region for building roads, airports, ports, schools, mosques, health care facilities, providing water and electricity, and other services. These investments have paid off. Poverty in Western Sahara has reduced by 66 percent in the last 20 years. The region now also boasts the highest school enrollment rate for children in all of Morocco.
While Morocco works to bring stability and growth, Algeria continues to oppose Morocco's sovereignty over Western Sahara and uses the Polisario to do this. Beyond a territorial dispute, this support destabilizes the broader region. It is important that policymakers pay attention to this.
The Polisario continues to control a small number of refugee camps in Tindouf, located in a part of Algeria bordering Western Sahara. They inflate the numbers of refugees there. Indeed, Algeria had historically opposed an independent census of the camps, even as the UN had called for it. These refugees live in appalling conditions. Some returnees say the Polisario tortures them, or prevents them from leaving, using them to continue their struggle. Overinflating refugee figures allows the Polisario to siphon humanitarian aid. Beyond that, the Polisario has connections to criminal activities and smuggling, while terrorist organizations reportedly recruit refugees from Tindouf camps into their ranks. Even if they leave the camps, some maintain connection to these radical groups.
While the US has reiterated many times its commitment to Western Sahara's autonomy under Moroccan sovereignty, the US State Department prohibits senior US diplomats from visiting Western Sahara and the refugee camps. Lifting this prohibition and encouraging senior diplomats to visit Western Sahara would certainly show US commitment to the region on a deeper level than it currently stands. The recent law that strengthens the mandate for US assistance to Morocco and Western Sahara is a positive step. Supporting Morocco further is important. It would only benefit US security.
I am a fellow at the European Foundation for Democracy. My previous experience includes positions in D.C. think-tanks: Peterson Institute for International Economics and the Atlantic Council. I also worked as an analyst for U.S. military contractor in Afghanistan and as communications director at the American Islamic Congress. I've published widely in journals such as The New Criterion, Turkish Policy Quarterly, and the Middle East Quarterly. I also conduct translation and analysis for the U.S. Army's Foreign Military Studies Office and its flagship publication, Operational Environment Watch. I hold an M.A. in International Relations from the Johns Hopkins University School of Advanced International Studies (SAIS), where I studied the Middle East, International Law and International Economics. Originally from Moscow, Russia, I came to the U.S. as a refugee in 1993. Please follow me on twitter @annaborsh
The author is a Forbes contributor. The opinions expressed are those of the writer.
Comments are closed.