New York Times
By Carlotta Gal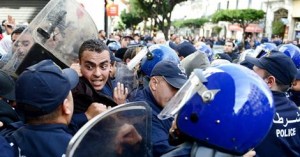 A protester scuffled with Algerian security forces Tuesday during a demonstration in the capital, Algiers, against fracking.
European Pressphoto Agency
Deep in the Algerian Sahara, daily protests against a pilot hydraulic fracturing, or fracking, project are now well into their second month. The demonstrations have spread to several towns and have provided opposition parties with a new platform at an especially precarious moment for the government, as oil prices have slumped and the declining health of President Abdelaziz Bouteflika has removed him almost completely from public view.
Hundreds of police officers sealed off streets to block an antifracking march in the capital, Algiers, on Tuesday as opposition groups held rallies around the country in solidarity with the southern protesters in the distant oasis town of Ain Salah.
At first glance, Algeria might seem an unlikely place for the sort of popular movement against fracking, a method of tapping into deep deposits of shale gas, that has unfolded in many Western countries. Money from oil and gas accounts for 97 percent of exports and keeps afloat a socialist system of generous public subsidies for everything from food to housing.
In the past, the government has proved skillful at handling such popular unrest with a mixture of police repression and political and financial inducements made possible by its oil reserves. But the sharp fall in oil prices threatens to usher in a severe budget crisis and to undercut that long-tested strategy for preserving the peace and holding off demands for change.
"The winds of social change will blow from the south," Rachid Tlemcani, a professor of history at the University of Algiers, predicted. "In the north the demands of people are housing, jobs and for their share of the oil revenues. But in the south, they are saying we don't need shale gas, for the sake of the environment. They have a very high social conscience."
In part because of its oil wealth, Algeria avoided the upheavals of the Arab Spring uprisings of 2011. The government broke up early protests, then spent generously on social programs for youth and backdated pay raises for government employees and the police.
It helped that the country's terrifying Islamist insurgency in the 1990s left Algerians easily persuaded against the dangers of instability as they watched Arab Spring uprisings in Libya, Egypt and Syria descend into bloody confrontation.
Even so, Algeria is a country of nearly constant demonstrations — 10,000 to 12,000 a year according to Said Sadi, a senior politician from the country's northeast — as people have learned that without them, they will get nothing from an unresponsive bureaucracy.