Sputnik international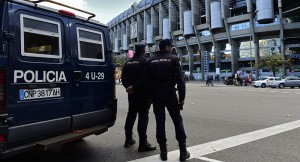 The level of terror threat has been raised to four out of five and the total of 207 terrorists has been detained in the country since 2015, according to the Spanish Interior Ministry.
"Police Officers from the General Commissariat of Information of the National Police have detained in Badalona (Barcelona) and Salou (Tarragona) two men of Moroccan nationality, aged 21 and 32, for integration with a sell attached to DAESH, while, together with the National Police, Morocco's Directorate of Surveillance of the National Territory has carried out detention in Tangier (Morocco) of the third member of the same cell," the statement said.
The statement noted that the two men detained in Spain maintained contacts with Daesh members in Syria and Iraq, demonstrated a desire to pursue Jihad and wanted to die like martyrs. In addition, one of them was in Spain illegally.