Oil Price Decline 'Has Caused Knock-On Effect'
Trade Arabia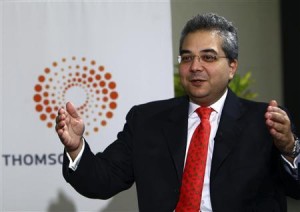 Oil prices are an essential component of the revenue structure for most regional economies and an essential lifeline for those who rely on oil production revenue, according to an expert.
During an interview with Euromoney Conferences at the recently concluded GCC Financial Forum, John Sfakianakis, regional director of GCC at Ashore Group, said falling prices have caused a knock-on effect, in that they have changed market fundamentals and will impact the financial sector and investment capital flows.
The forum provide a platform for financial experts and national leaders to discuss the decline in oil prices and its impact on the global economic outlook, its recovery and its effects on regional financial markets. It was organised by Euromoney Conference and co-hosted by the Bahrain Economic Development Board (EDB).
When oil prices go down, oil producing countries are less well-off and oil importing countries are better-off, as this is the natural cycle of things, said Stakianakis.
Countries such as China and India as well as other oil importing countries benefit greatly from lower imports in terms of lower import expenses as well as lower current account deficits. With prices declining, these oil producing countries will be forced to cut investments when compared to oil importing countries, he said.
Furthermore, he said that geopolitics is always important but its role shouldn't be exaggerated to produce misinformed decisions, as the GCC is a very cooperative region. The Gulf as a whole seems to be doing well economically despite the geopolitical hype.
Saudi Arabia's milestone decision to liberalise the Saudi Tadawul Index is extremely significant, as until now it has been the only stock market of essential size that remained closed to foreigners, said Stakianakis.
It opens the Saudi financial sector which in turn will usher in a new era for GCC countries, as it is not a zero sum game; what benefits one GCC country benefits the others. Investors will be able to gain exposure to Saudi Arabia's formidable oil economy by investing in its market, he said.
Besides the 'Town Hall' discussion, the two-day forum also featured a high-profile 'Macro-panel' which examined the impact of the current global macroeconomic environment on the GCC and the outlook for the region led by internationally renowned American portfolio manager, lawyer, economist and chief global strategist, James Rickards.
The range of topics discussed at the forum included regional finance in the global market place; the role of private capital in public projects; Bahrain's real economy; the growth of local companies and the pipeline of hydrocarbon projects.
Comments are closed.