JOC.com
Joseph Bonney, Senior Editor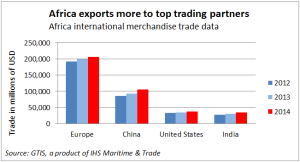 CMA CGM's new Wazzan service linking Morocco and Northwest Africa is designed to tap into a growing intra-Africa market for container shipping and to support the increasingly larger vessels deployed on the region's line-haul services.
The service will be launched Saturday with the sailing from Casablanca of the Delmas Swala, one of three ships with capacities of 1,100 twenty-foot-equivalent units that CMA CGM will operate in the trade.
The new feeder service comes as carriers are introducing larger ships for routes linking Africa with other regions. During the last five years, the average size of ships serving the Asia-West Africa trade has grown to 5,100 TEUs from 4,100 TEUs, according to IHS Maritime & Trade.
Intra-Africa trade also has risen. IHS reports that exports from South Africa to other countries on the continent rose 56 percent year-over-year in 2014. In the same period, Ghana's exports to intra-Africa destinations jumped 52 percent, Algeria's rose 11 percent, and Morocco's and Senegal's rose 5 percent each.
CMA CGM's new weekly service will operate on a rotation of Casablanca, Algeciras, Tangiers, Nouakchott, Dakar, Nouadhibou, Las Palmas, Casablanca. It will complement CMA CGM's six existing Europe-Africa services.
A new direct call in Las Palmas, Canary Islands, for ships sailing from Northwest Africa to Morocco. CMA CGM said replacement of transshipment calls by direct service will trim eight days from transit times Mauritania and Senegal to Morocco.
The new service also will allow CMA CGM to load refrigerated containers with fish at Nouadhibou, Mauritania,for shipment to intra-Africa and worldwide markets.
CMA CGM's additional feeder service comes as carriers are sharply increasing capacity of their line-haul services to and from the region.
In 2009, Maersk Line began replacing 3,000-TEU ships on its Asia-West Africa service with chartered 5,500-TEU ships. More recently, Mediterranean Shipping Co. has been redeploying 8,000-TEU ships to the market from the Asia-Europe trade. MSC uses Lome as its hub to cover WAF and according to IHS research has a financial interest in the terminal in which it serves.
The growth in ship sizes has coincided with development of container terminals in the region. APM has opened a terminal at Apapa, Nigeria, that handles 625,000 TEUs a year. In 2017, CWA Terminals and International Container Terminal Services Inc. will open larger terminal at Lekki, Nigeria, 37 miles kilometers east of Lagos.