Reuters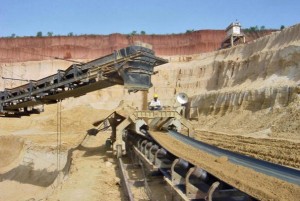 The world's leading phosphate exporter, Morocco's Office Cherifien de Phosphate (OCP) posted an 11.7 percent fall in 2014 net profit of 7.74 billion dirhams ($790 million) hurt by a fall in global prices.
State-run OCP, a major earner of foreign currency for Morocco, has been raising output in recent years to help offset a slide in prices.
Prices of phosphate rock, an essential ingredient for producing fertiliser, fell to $115 per tonne in 2014 from around $145 per tonne in 2013 and $185 per tonne in 2012.
The company aims to raise output to 47 million tonnes of crude phosphate rock in 2017 from around 34 million tonnes last year.
Higher output last year helped raise revenue to 48.9 billion dirhams from 46.9 billion.
OCP said fertiliser production will hit 10 million tonnes in 2017 which would make the company the world's top producer.
OCP raised $1.55 billion in its debut international bond to finance investment including a series of acquisitions.
Last year, OCP reached an agreement to buy U.S. headquartered Bunge's 50-percent stake in their Moroccan fertiliser joint venture Bunge Maroc Phosphore S.A. for an undisclosed amount.
It has also signed an agreement to buy a 10 percent stake in Brazil-based company Fertilizantes Heringer S.A for 145 million Brazilian real.
($1 = 9.7989 Moroccan dirham)
(Reporting by Aziz El Yaakoubi; editing by Jason Neely)