CPI FINANCIAL
By Matthew Amlôt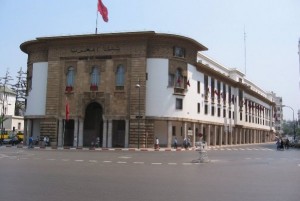 Morocco's central bank voted in favour of keeping interest rates on hold at its latest policy meeting on March 24, keeping the base rate at 2.50 per cent. The bank had cut rates by 25bps at its previous two meetings, which are held on a quarterly basis, according to the latest economic data released by Emirates NBD Research.
"Although we are expecting headline inflation to gradually accelerate this year, particularly after averaging only 0.4 per cent y/y in 2014, price pressures at the start of 2015 appear minimal, with headline CPI standing at only 1.3 per cent y/y in February.
According to the central bank's projections, and even taking into account a hike in the minimum wage that is set to come into effect in July, inflation will only average 1.4 per cent over the coming year, which should allow policymakers to maintain an easing bias.
"The central bank also updated many of its economic forecasts, and is now projecting real GDP growth of 5.0 per cent in 2015 (exactly in line with our forecasts), compared to 4.4 per cent previously, and up from an estimated 2.5 per cent in 2014. The more optimistic assessment appears to be based predominantly on higher expectations for this year's cereal harvest, which the governor of the central bank, Abdellatif Jouahri, said could rise to 9mn tons, and would mark a nearly 30 per cent increase on last year's output. As the agricultural sector accounts for 15 per cent of the economy, changes in cereal production can result in volatile swings in GDP growth.
"Updated projections were also released for the fiscal and current accounts, with authorities expecting a narrowing of the economy's twin deficits this year. In terms of the latter, the shortfall is forecast to narrow to 4.0 per cent of GDP from 5.9 per cent in 2014, driven by lower energy imports and higher manufacturing exports (automobile exports were up 41 per cent y/y in January). The performance of other key items in the current account has so far been mixed, with travel receipts falling and remittance inflows increasing through the early months of 2015. The fiscal deficit should also continue to improve, particularly on the back of lower energy subsidies.
"According to Jouahri, Morocco has also completed the preparatory work on changing the weightings of the basket in the dirham's managed FX float regime. At the moment, the currency is pegged to a basket of euros-dollars with a ratio of 8:2. Greater exchange rate flexibility has long been a recommendation of the IMF, and the recent weakening in the euro appears to have accelerated the pace of reforms. Rather than simply re-weighting the basket – which provides no added flexibility – we would also expect to see a widening of the trading band around the peg."