Trade Arabia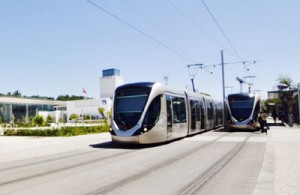 Morocco aims to attract multi-billion dollar investments through its participation at the Annual Investment Meeting (AIM) Congress in Dubai, UAE.
A large delegation from the Moroccan public and private sector organisations will be present at the congress, being held from March 30 to April 1.
Ministerial delegations, accompanied by Moroccan Investment Promotion and Development agencies, will present investment opportunities and find new business partners, a statement said.
High level delegates from across sectors such as transport, infrastructure, logistics, industry, agriculture, tourism, energy among other industry sectors will be meeting with UAE Business leaders and UAE Government authorities to discuss the Moroccan value proposition and attract potential investors.
With a combined GDP of $1.75 trillion, GCC countries provide a robust and growing market where demand is considerable for Morocco's agricultural and other exports.
Most of Morocco's trade is currently with the EU, with which it has an association agreement. However, diversification is necessary to immunise Morocco's exports against recurrent recessions in the euro zone. The country remains a favourite destination for investment and is the second largest FDI recipient in Africa among non-oil exporting countries. In 2013, the FDI exceeded $3.4 billion, a jump of 23 per cent from previous year.
Overall, the kingdom has devised strategies for sectors such as industry, tourism, energy, chemicals, it, logistics and agricultural sectors. The 'Industrial Acceleration Plan' will extend over the 2014-2020 period and aims to generate half a million jobs in the sector and substantially increase the share of industry in GDP from the current 14 per cent to 23 per cent. Green Morocco Plan is set to increase the agriculture GDP by an additional $10 billion. The country's logistics plan aims to decrease logistics cost by 5 GDP points to reach 15 per cent.
Apart from these, Morocco's close proximity to Europe, Africa and the Middle East also makes it a fine destination for businesses to invest in this market.
Morocco has a GDP of $100 bilion and GDP per capita of $3,500. The economy has been steadily growing at an average growth rate of 4.9pc over the last five years. The Mediterranean country has a steady political environment and strong macroeconomic drivers. It was rated the No 2 African country of the future by one of London's leading Financial daily in 2013-14, it said. –TradeArabia News Service