FORBES
Christopher Coats, Contributor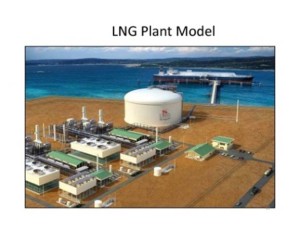 For years, Morocco has moved to diversify an energy diet that was overly dependent on costly and unsustainable energy imports. As the largest importer of oil and gas in North Africa, Morocco has been saddled with expensive and occasionally unstable options. In recent years, the country has moved to broaden its energy resource base with new oil and gas exploration and renewable energy support. Now, at a cost of $4.6 billion, Morocco is moving towards a future that will include liquefied natural gas into the mix, allowing a greater choice of global prices and reliability in comparison to traditional pipeline projects.
The next, and necessary, step in this process, is to select a producer to supply LNG moving forward, including possible partnerships with Qatar, Russia or the United States, according to media reports.
In addition to allowing access to a greater variety of global gas prices, Morocco's LNG plans would help reach its diversification goals by 2020. According to The National, the country hopes to provide 42 percent of its energy needs with renewable energy options by that year, with the remaining coming from fewer imports and a burgeoning domestic production sector.
After modest interest for much of the last decade, this past year a number of larger oil and gas firms have arrived in Morocco in pursuit of the country's mainly offshore potential. Joining smaller operators like San Leon Energy and Longreach Oil and Gas, energy majors have begun targeting the country's potential reserves with more than 10 wells planned over the next year, according to a Bloomberg report – more than twice what the country has seen over the last ten years. Since January, BP, Chevron and Cairn have all announced new projects or buy-ins to existing efforts, despite the country's lackluster history of viable oil and gas discoveries.
Despite recent interest, Morocco's oil and gas efforts remain underdeveloped, with actual output years away. In the meantime, Morocco will have to keep the interest of foreign firms through extensive seismic studies and assorted political hurdles, most notably the capital's relationship with the Western Sahara region of the country.
Planned to begin construction in 2017, the country's LNG terminal would likely help ease the transition process, though the project's price remains expensive for Rabat to support, meaning the entire cost will likely fall to the private sector.
According to the report, the Moroccan government will begin a project roadshow in 2015 to seek out potential financing partners, beginning with Qatar, and plans to pick which investors will take part by by the end of the year or in 2016.
Morocco's push towards greater energy independence has not been free of challenges. In addition to environmental concerns about the impact of oil and gas exploration, Morocco has also received criticism for plans associated with operating in the Western Sahara.
Norway's $850 billion Sovereign Wealth Fund announced that they would be reviewing their connection to France's Total due to their involvement in exploration efforts in the Western Sahara region of Morocco. Charged with investing Norway's oil and gas revenue, the fund has made it a point to invest only in ethical companies, excluding controversial investments like tobacco, weapons and landmines, according to a recent Reuters report. This move came nearly three months after German state-owned bank KFW, the World Bank, the European Investment Bank, and the European Union all said they would not financially support solar projects in the Western Sahara, with one official saying such an investment would be an endorsement of the Moroccan position on the region, according to a Reuters report.
FORBES
Christopher Coats, Contributor
I write about energy and policy issues facing the Mediterranean region FULL BIO
I am a reporter and researcher focused on energy, political and economic issues in the Mediterranean and have spent much of the last fifteen years working and reporting from the region. Over the last several years, my work has focused on all facets of the energy sector, including investment, development and policy issues. I am a graduate of the University of Texas' School of Journalism and New York University's Center for European and Mediterranean Studies graduate program. https://twitter.com/coatschristophe
The author is a Forbes contributor. The opinions expressed are those of the writer.