Forbes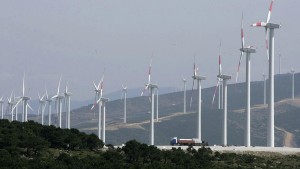 Morocco continued its energy diversification push this week with a nod towards its renewable power options, with the announcement that Saudi Arabia-based ACWA Power will back wind projects in the country as a part of a broad investment plan.
According to local media reports, Paddy Padmanathan, President and CEO of the company, announced that the Moroccan push was a part of a larger $12 billion investment plan sprawling across multiple countries, focused on current and ongoing energy projects.
The wind projects would add to the company's Moroccan presence, which already includes a $2 billion contract to build two solar power plants in the southern city of Ourzazate. According to press reports, the two plants totaling 350 megawatts are the second phase of the 500MW Ouarzazate project, which aims at producing 2 gigawatts of solar energy by 2020.
Morrocco is heavily dependent on energy imports to meet its growing demand and has spent the last decade exploring new options to help reduce costly oil and coal imports, including supporting new exploration and production efforts, as well as renewable alternatives.
Recently, the North African nation has explored both traditional and green energy options, including new liquefied natural gas projects to allows access to a potentially cheaper, more flexible market. However, the country renewable push has garnered attention for its 'go-it-alone' approach and state-backing for significant energy goals. According to the Financial Times, Morocco has the most ambituious clean energy target in the region and "is on track to have 42 per cent of its installed energy capacity dedicated to renewable sources by 2020. Of that, 2,000MW will come from solar."
Morocco's green energy goals continue to shape energy policy despite industry setbacks and challenges seen over the last few years. The country faced financial protests from potential European bakers of new energy projects in early 2014 due to concerns territorial concerns. According to Reuters, lending institutions including the World Bank, the European Investment Banks and the European Union had expressed concern about Morocco's plans to extend traditional and renewable energy efforts into the Western Sahara.
Two years prior, Morocco also faced renewable setbacks when the proposed Desertec renewable plan, which would have supported solar efforts in North Africa to import to the European market, became financially infeasible for the country's domestic energy goals.
Despite that push-back, Morocco has remained adamant that they can reach their renewable energy goals with or without European backing, with many pointing to Gulf funding as a remedy for any apprehension from the country's northern neighbors. With Saudi companies now expanding their renewable financing footprint in the country, it appears that this assumption is well founded.