Malawi Makes U-turn On Sahrawi Recognition
Malawi24
By Joseph Dumbula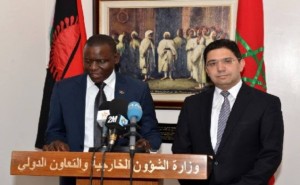 Malawi no longer recognizes the Sahrawi Arabic Democratic Republic (SADR), Foreign Affairs Minister Francis Kasaila has said.
This places the nation as the 35th one to make such an announcement.
Malawi established diplomatic relations with the SADR in 2002.
The SADR is a disputed territory claimed by both the Kingdom of Morocco and the Polisario Front.
It is listed by the United Nations (UN), as a non-decolonized territory and is thus included in the United Nations List of Non-Self-Governing Territories.
Kasaila (L) with Moroccan Foreign Minister Nasser Bourita in Rabat. (Image credit- Morocco World News)
''Only a handful of the countries that proclaimed their backing to the Polisario and its pseudo republic at the height of the Cold War in the 1970s are still supporting the separatist movement. This waning support shows that African countries are increasingly aware of the reality of the Sahara issue and are making diplomatic decisions in accordance with international legality and the UN Charter, Moroccan Foreign Minister Nasser Bourita said at the end of his meeting with his Malawian counterpart Francis Kasaila, in Rabat on Friday,'' a post on Saharanews.com reads.
The SADR which controls about 20–25% of the territory also looks after a thin strip of area in the Western Sahara region and claims sovereignty over the entire territory of Western Sahara, a former Spanish colony.
SADR was proclaimed by the Polisario Front on February 27, 1976, in Bir Lehlou, Western Sahara, a former communist liberation force (modelled after that of Cuba) which has since reformed its ideological and political views.
In making the withdrawal, Malawi has joined in drumming up support to the UN efforts seeking to reach a lasting and mutually acceptable political solution to this regional dispute.
Malawi had also announced the withdrawal before it re-established the diplomatic ties in 2008 until 2014 when it rescinded the decision.
The Polisario is first and foremost a nationalist organization, whose main goal is the independence of Western Sahara. It has stated that ideological disputes should be left for a future democratic Western Sahara to deal with. It views itself as a "front" encompassing all political trends in Sahrawi society, and not as a political party. As a consequence, there is no party programme.
However, the Sahrawi republic's constitution gives a hint of the movement's ideological context: in the early 1970s, Polisario adopted a vaguely socialist rhetoric, in line with most national liberation movements of the time, but this was eventually abandoned in favour of a non-politicized Sahrawi nationalism. By the late 1970s, references to socialism in the republic's constitution were removed, and by 1991, the Polisario was explicitly pro-free-market.
The Polisario has stated that it will, when Sahrawi self-determination has been achieved, either function as a party within the context of a multi-party system, or be completely disbanded. This is to be decided by a Polisario Front congress upon the achievement of Western Sahara's independence.
Comments are closed.