Kuwait Actively Participates In Human Rights Forum In Morocco
MENAFN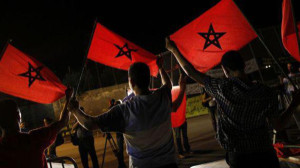 Member of the Human Rights Committee in the Kuwaiti parliament Dr. Hmoud Al-Hamdan and member of the Committee on Education, Culture and Guidance Affairs National asserted here on Sunday success of the Kuwaiti participation in the work of the Second World Human Rights Forum through the presence of the Kuwaiti MPs and their contribution to the debate, dialogue and suggestions in a number of workshops that addressed current and important topics.
Al-Hamdan told Kuwait News Agency (KUNA) on the sidelines of the forum that the delegation briefed the participants with Kuwait's experience in the field of human rights that are backed by religious references and Islam's tolerant teachings as well as the traditions inherited in the civilization of the Arab society and culture.
He stressed that the debate on the death penalty, in which experts in the civil society, parliamentarians, businessmen and human rights figures too part, will enable the participants to look more thoroughly and in depth into this matter by invoking religious texts for those slain without the right to kill.
Al-Hamdan reviewed the divine approach that calls for giving priority to tolerance and concern for the payment of blood money and self-preservation, expressing rejection of the death penalty for political reasons.
The Kuwaiti MP added that Kuwait's experience, especially in the field of education and criminal justice received attention and acclaim by many of the participants, who noted the support of Kuwait for human development projects in many emerging countries in the path of growth through the construction of schools, establishment of universities, libraries and funding of educational programs.
Al-hamdan also spoke about the UN honoring of His Highness the Amir as a "Humanitarian Leader" and Kuwait's selection as a "Humanitarian Center", highlighting the prestigious status enjoyed by Kuwait, thanks to the wise policy of its leadership.
Comments are closed.