GCC chief underlines strategic partnership with Jordan, Morocco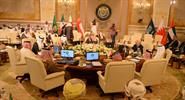 With photos) KUWAIT, Nov 27 (KUNA) — GCC Secretary General Abdullatif Al-Zayani said here on Wednesday the GCC leaders are keen on supporting and beefing up strategic partnership with Jordan and Morocco.
Addressing a meeting of foreign ministers of the Gulf Cooperation Council (GCC) member states, Jordan and Morocco, which kick-started here on Wednesday, Al-Zayani said: "The leaders of the GCC countries are eager to consolidate such relations and to develop achievements, including a strategic partnership." He said the GCC summit in Bahrain in November 2012 had adopted the appropriate framework for consolidating strategic partnership between the GCC members on the one hand and Jordan and Morocco on the other hand.
The main joint plan for 2013-2018, which outlined the fields of cooperation, aspired goals and executive mechanisms, had also been adopted during the Bahrain summit, he said.
Joint working teams are going ahead with the mission of devising detailed plans for different areas involving strategic partnership, Al-Zayani added.
Joint cooperation fields include infrastructure, renewable energy, natural resources, education, scientific research, youth, social development, economy, law, judiciary, culture, media, tourism, transport, communications, sports, agriculture and food security, he pointed out.
The GCC chief appreciated great efforts by working teams and joint committees as well as the senior officials' panel for pushing forward strategic partnership between the GCC member states and the two Arab brotherly countries.
This strategic partnership would surely contribute to consolidating cooperative relations and coordination between both sides, leading up to the fulfillment of aspired goals.
Comments are closed.