ASHARQ AL-AWSAT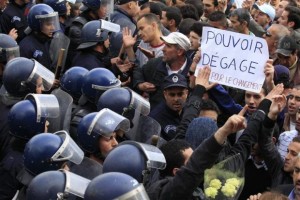 Algeria- Seven years ago, a regional wave of protests to topple authoritarian regimes in the Arab world came to be known as the 'Arab Spring.'
The same popular uprisings against corruption in power have become a great threat to order in the North African state Algeria.
Algeria's government loudly sounded its concerns following street protests that witnessed acts of arson and vandalism of public and private property.
Imams across the nation have complied with the government's request on delivering a Friday speech which raises awareness on the down side to compromising national security. Imams are the religious priests which not only lead prayers at mosques but also deliver speeches concerning the Muslim community.
All Imams had received a statement from the Ministry of Religious Affairs on Thursday night which gave a number of directives that strongly stress the importance of security and stability, also as a core principal to Sharia law, and a religious duty that falls upon all citizens.
The directives relayed to national Mosques keep in line with the strong language used by Algerian Prime Minister Abdelmalek Sellal when commenting on the protests ripping through eastern provinces on Monday and Tuesday.
Speaking during a ceremony for the 2015 copyrights fee payments at the Culture Palace in Algiers, the Premier said that "unknown parties are behind the recent protests that occurred in some regions of the country, notably in Bejaia, and which try to destabilize the country."
In his first remarks since the outbreak of these protests, Sellal said that "Algeria is a stable country," and that "any attempts to destabilize it will not be successful," adding that these protests "are not related to the Arab Spring."
The State "will block any attempt aiming the destabilization of Algeria," he underscored.
Describing those incidents as "positive lessons" which will incite his government to work more, the minister welcomed the position taken by the Algerian youth and families, and the reactions of the organizations and the political parties-from all tendencies- which have shown "political maturity during these incidents."
Asharq Al-Awsat
Asharq Al-Awsat is the world's premier pan-Arab daily newspaper, printed simultaneously each day on four continents in 14 cities. Launched in London in 1978, Asharq Al-Awsat has established itself as the decisive publication on pan-Arab and international affairs, offering its readers in-depth analysis and exclusive editorials, as well as the most comprehensive coverage of the entire Arab world.