David Beckham 'Planning Luxury 40th Birthday Celebrations In Morocco'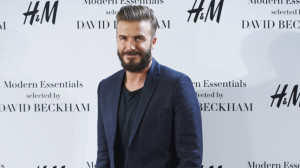 The retired footballer will turn 40 on Saturday [2 May] and he's said to be flying out his close showbiz friends for a luxury party.
A-listers expected to make an appearance include Tom Cruise and Liv Tyler, who is in a relationship with Becks' best mate Dave Gardner.
"He'll only turn 40 once so he wants to do it in style," a source told The Sun on Sunday.
Dave and Liv are expected to fly to Morocco for David's birthday
David allegedly wants to surprise his guests who apparently have no idea about what's in store for them when they arrive in Morocco.
It's not just Morocco's beauty that attracted David: the country is a special place to him and his 41-year-old wife Victoria.
They traveled there after his former assistant Rebecca Loos claimed he'd cheated with her in 2004.
David, Victoria and their boys at the London Marathon today
David and Vic also renewed their wedding vows there in 2008.
It was previously reported that Becks wanted something a bit more down-to-earth for his birthday.
According to sources, he originally wanted to go back to Essex and have a party with his old friends and family – complete with a 'chip shop dinner'.
Comments are closed.