World Bulletin/News Desk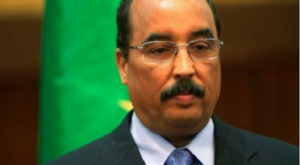 Mauritania has reportedly expelled an Algerian diplomat for attempting to trouble the relations between Rabat and Nouakchott.
Algeria on Sunday described as both "surprising" and "incomprehensible" a decision by Mauritania to declare an Algerian diplomat in Nouakchott "persona non grata."
"This decision is incomprehensible," an Algerian diplomat was quoted by Echorouk TV as saying.
He added that Algeria was considering an official response to the Mauritanian declaration, expecting the Algerian government to reciprocate.
Another Algerian diplomat commented on the Mauritanian declaration by describing it as "surprising."
"We will reconsider our relationship with Mauritania," the diplomat was quoted by the Algerian news site TSA as saying.
Mauritanian media, meanwhile, confirmed news of the expulsion of Belkacem Alchroati, a senior advisor at the Algerian embassy in Mauritania.
It said the decision was taken because the Algerian diplomat stood behind an article published by a Mauritanian website, noting that the article criticized Mauritania's foreign policies.
Mauritanian media went on to say that the controversial article talked about a complaint filed by Mauritania at the United Nations against Morocco, accusing the North African state of flooding Mauritania's northern border with narcotics.
Mauritania's Al-Bayan website had recently published an article alleging that a complaint had been filed by Mauritania against Morocco at the UN, accusing it of flooding the country with drugs.
Mauritanian authorities denied this allegation, deeming the incident an attempt to destabilize its relations with Rabat.
They later arrested the website's editor.
On Saturday, Algeria's Echorouk daily quoted Alchroati as saying that he had fallen victim to a conspiracy in this matter.
The diplomat refused, however, to mention further details.
The incident is unprecedented in Algerian-Mauritanian relations which have been stable in recent years.