Stars and Stripes
By John Vandiver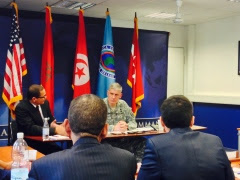 The Islamic State group's expansion into Libya and beyond poses a threat to regional security in north Africa, U.S. Africa Command's top general said Friday.
"Unfortunately, that (Islamic State) has expanded across northern Africa, coming out of mainly Libya, but also across all of north Africa," Rodriguez told a delegation of visiting reporters from Tunisia and Morocco.
Rodriguez emphasized efforts by AFRICOM to bolster the capabilities of militaries in the region, which he said must be the first line of defense against any emerging threat. Still, militants continue to mobilize across north Africa, bound for Libya, and "then come back home," Rodriguez said.
"That threat continues to grow," Rodriguez said. "We're working with all our partners to help minimize the negative effect on the security of host nations."
Rodriguez's comments come at a time of rising concern about the Islamic State stretching out beyond Iraq and Syria. For several months now, the group has been making steady gains in Libya, which has degenerated into a virtual failed state in the years since anti-regime rebels, backed by NATO firepower, overthrew dictator Moammar Gadhafi.
While AFRICOM has plans to help build up Libya's military, those efforts have been shelved due to the chaos in the country, Rodriguez said, with two governments fighting for legitimacy and multiple militia groups carving out turf of their own. A unity government is needed as a first step toward stability, he said.
Rodriguez fielded a range of questions, including whether the command might relocate to northern Africa. AFRICOM will be in Stuttgart "for the foreseeable future," Rodriguez told the group.
For AFRICOM, visits by African journalists to the command's headquarters have become routine. When the command launched in 2008, there was widespread skepticism about U.S. motives on the continent, which critics said was an example of the militarization of U.S. foreign policy. Since then, scores of journalists have passed through Stuttgart where they receive briefs from AFRICOM officials and often interview the four-star commander.
Rodriguez emphasized that the main mission of AFRICOM is training militaries to provide for their own defense, echoing the command's longstanding mantra of "African solutions for African problems."
He pointed to efforts such as training African Union forces operating in Somalia as one of the command's main successes, saying those troops have succeeded in pushing the Islamic militant group Al-Shabab out of numerous former strongholds.
Shabab continues to pose a significant threat to the region, carrying out periodic high profile attacks on civilians, but is generally regarded as less capable of holding territory as it did several years ago when it nearly toppled the capital Mogadishu.
Meanwhile, AFRICOM is now focused on training missions to help Tunisia better secure its borders in a volatile neighborhood that includes Libya. Training with Morocco also has increasingly focused on intelligence gathering and beefing up special operations capabilities in light of new threats, Rodriguez said.
"We are in this for the long-term," he said.
vandiver.john@stripes.com