News24
By: Garreth van Niekerk, City Press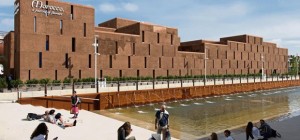 At least 140 countries unveiled their ambitious visions for the future at last week's official opening of Expo 2015 – the 164th Universal Exposition being held in Milan, Italy, under this year's theme of Feeding the Planet, Energy for Life.
The expo, which happens every second year, takes the form of bold architectural pavilions across more than 2 million square metres of showground, with each country battling it out for the most innovative showcase.
With the focus on "the right to healthy, secure and sufficient food for all the world's inhabitants", this global effort to address the biggest problem facing the survival of humanity has resulted in inspired ways to imagine a more sustainable global future.
The Austrian pavilion's theme, Breathe Austria, addresses air as the "primary source of sustenance", with an internal forest that produces 62.5kg of pure oxygen every hour.
Morocco, one of more than 35 African countries taking part in this year's expo, uses its theme of water to display its centuries-old approach to waterwise irrigation systems.
When the first World Expo opened its doors in 1851 under the towering glass and steel structural wonder that was Crystal Palace in Hyde Park, London, it was titled Great Exhibition of the Works of Industry of All Nations and was the first international exhibition of manufactured products.
It signalled the dawn of the Industrial Revolution.
In this era of global communication and connectivity, the expo's relevance has been debated, with critics frequently citing the unnecessary expenditure of state funds on a project that serves to benefit foreign audiences.
City Press